COVID-19
Crisis Management at UMBRAGROUP
UMBRAGROUP S.p.A. has implemented an action plan, shared at the Group level, to limit the risk of contagion from Covid-19 and empower all employees to adopt appropriate and conscientious behaviors to achieve the common goal: the HEALTH of all of us.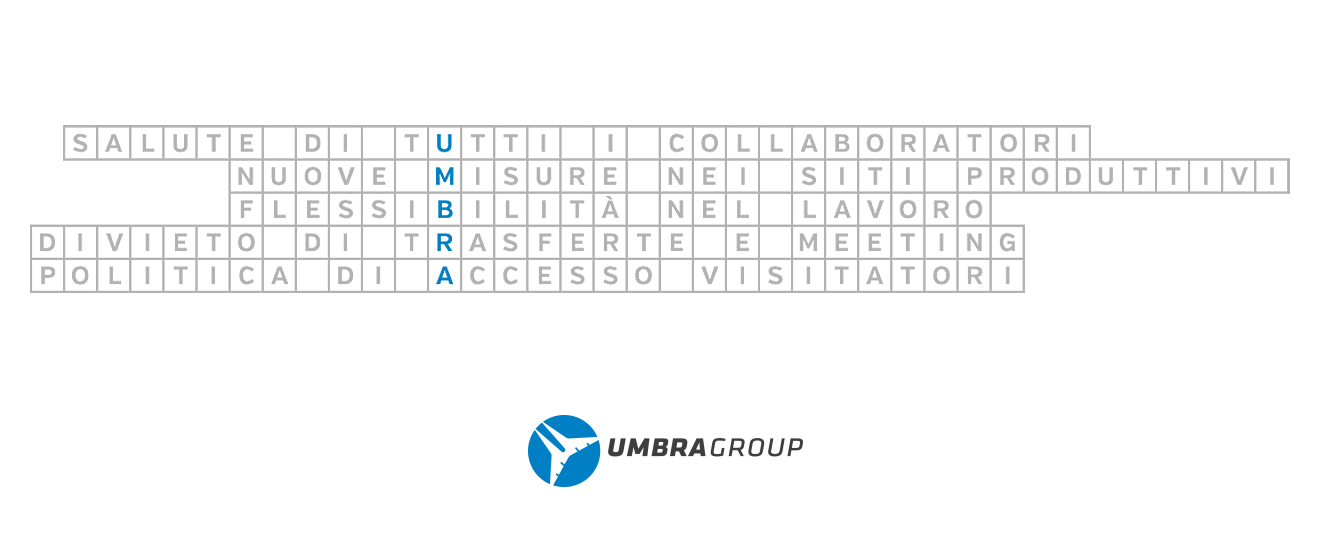 Establishment of a committee
A Crisis Management Committee has been established at each site, made up of high-level management.
The Committee meets regularly to see and / or review the procedures in compliance with governmental dictates.
The Committee makes decisions to manage the crisis period with respect for each person and with the ultimate aim of protecting the health of company staff.
Actions in the production sites
Modification of processes to avoid contact between people and respect the safety distance.
Increased sanitation.
Placement of hand sanitizers at entrances and other places of major traffic.
Posting posters with detailed hand washing instructions.
Provision of a cleaning kit for cleaning the personal workstation.
Mask supplied.
Closing of meeting places (example: changing rooms and refreshment areas) and management of breaks by limiting contacts.
Prohibiting in-person meetings and use of digital tools for meeting management.
Staff training only through e-learning.
Prohibiting corporate events and dinners.
Maintaining the minimum safety distance between people is mandatory.
Sending useful communications to promptly inform and update all employees.
Smart Working
Implementation of smart-working which demonstrates UMBRAGROUP values. High flexibility in the choice of space, time and tools, with the aim of providing all employees with the best working conditions. Three Bs make SMART work align with our values:
Bricks: change of the physical space and choice of the most comfortable and functional environment for working and personal needs in maximizing performance, creativity and collaboration with the team. The synthesis of an optimal work-family balance.
Bytes: Innovation and technologies. Technological equipment is essential so that an effective smart-working model can be implemented. Technological tools allow people to overcome physical and temporal distance and support flexibility, efficiency and productivity.
Behaviors: focusing on individuals who must move towards empowerment and building a relationship of trust between managers and employees. The change in managerial culture is fundamental, with particular regard to assessments based on the definition of objectives and the achievement of predetermined results. A different way of working and relating, based on autonomy and the convergence of personal and business objectives.
Travel
Prohibiting travel and travel at the Group level, unless authorized by the CEO and in full compliance with the directives of the various governments.

For any authorized trips, screenings are carried out to avoid contagion from Covid-19.

A Travel Manager has been identified at each Group location to manage and monitor travel requests.
Action to visitors
All visitors, including, but not limited to, customers, auditors, suppliers, service providers, etc. are required to:
Mandatory stay at home in the presence of fever (over 37.5 °) or other flu symptoms and to call your family doctor and health authority.
Agree a person cannot enter the company and promptly declare dangerous symptoms if they arise. Flu symptoms: high temperature, travel in areas at risk or contact with people testing positive for the virus in the previous 14 days, etc. The Authority's provisions require the family doctor and the Health Authority to be informed and to remain at home.
Respect all the provisions of the Authorities and of the employer when accessing the company (in particular, maintaining the safety distance, observing the rules of hand hygiene and maintaining correct hygienic behaviors).
Promptly and responsibly inform the employer of the presence of any flu symptoms during the performance of the work, taking care to remain at an adequate distance from other people.
Shipment Drivers are required to have no contact with UMBRAGROUP staff and to use the bathrooms designed for them.
Dedicated contact
Each Group company has identified a contact person for the management of high priority or emergency situations.

The person is available 24 hours a day, 7 days a week, both by e-mail and by company mobile phone.